You will find some recipes below that have been used by GPA – Louisville members or were recommended.  If you have any to add, please just let us know at [email protected].
SATIN BALLS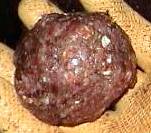 "Satin Balls" will put weight on a dog FAST, if you feed enough. They can be feed alone, but because the mixture is so rich and high in calories, we recommend it be fed only as a supplement to sick or significantly underweight dogs with little or no appetite.
For adult Greyhounds, I would recommend supplementing normal kibble servings with about a 1/4 pound (4 ounces by weight) twice a day to put on weight, maintain beautiful coats and high energy level.
In addition to feeding Satin Balls "out of hand" as an occasional treat, I also use whole balls to hide pills and capsules (a lot cheaper than those "pockets" for getting meds down your dog's throat).Also, I mash up two or three Satin Balls into the dog's kibble to entice them to eat better.BTW, I've also made these with ground turkey for a lower-fat treat for dogs I'm NOT trying to "fatten up" but who needs to be enticed to eat.Because this stuff is a really gooey mess, I recommend using rubber or latex exam gloves to mix the ingredients and shape the balls.
 ~~~ Satin Balls ~~~All ingredients are left uncooked.  "Satin Balls" are served RAW.
| | | | |
| --- | --- | --- | --- |
| Ingredient | Large Batch | Medium Batch | Small Batch |
| Ground beef (high fat % preferred) – Ground turkey may be substituted | 10 pounds | 5 pounds | 2-1/2 pounds |
| Whole Grain Total cereal (provides Vitamins A, C, D E, B6 and B12, calcium, iron, thiamin, riboflavin, niacin, folic acid, pantothenic acid, phosphorus, magnesium and zinc) | 1 large box | 1/2 of a large box (about 6 cups) | 3 cups cereal |
| Uncooked quick-cooking oats (important source of fiber and other nutrients) | 1 large box | 1/2 large box (about 7.5 cups) | 3-3/4 cups |
| Raw eggs (including crushed shells is optional) | 10 raw eggs | 5 raw eggs | 2 large or 3 medium raw eggs |
| Wheat germ (provides Vitamin E, folic acid, phosphorus, thiamin, zinc and magnesium) | 15-oz. jar | ½ of a 15-oz. jar (about 2 cups) | 1 cup wheat germ |
| Knox unflavored gelatine (will help the balls hold their shape when thawed; the gelatine also adds collagen and nitrogen) | 10 packages | 5 packages | 3 packages |
| Vegetable oil | 1-1/4 cups | 2/3 cup | 1/3 cup |
| Unsulfured molasses (the molasses provides many important elements, including manganese, copper, iron, calcium, potassium, magnesium, vitamin B6 and selenium) | 1-1/4 cups | 2/3 cup | 1/3 cup |
| Salt (optional) | 1/8 teaspoon | Pinch | Smidgen |
Mix all ingredients in a large bowl.  You'll probably need to use your hands for this!  Roll into small (1″) meatballs.  Spread them out on a cookie sheet and freeze until solid.  Then store the balls in Ziploc bags in your freezer, keeping two to three days' worth of thawed Satin Balls in a container in the fridge, ready to be fed.
Notes on ingredients:
Aldi's has a really good price on ground turkey.  You'll find it in 1# rolls in the frozen meats section.
"Whole Grain Total" cereal (blue box) comes in large 1 lb. 2 oz. size (about 12 cups settled). But in the long run, the large size is more economical.  Don't use Raisin Total or Lo Carb Total.
Uncooked oatmeal like "Quaker Old Fashioned Oats" and less expensive supermarket house brands, come in large 2 lb. 10 oz. size (15 cups oats) or smaller 18 oz. size (about 7 cups oats).
A 15 oz. jar of wheat germ is about 4 cups. Some stores only carry a 12 oz. jar of wheat germ, which contains about 3-1/4 cups.
Vegetable oil — use a good one. I recommend olive oil or canola oil.
PEANUT BUTTER BALLS
(The girls at MYDC gave these out at the February 2010 Graduation of foster dogs)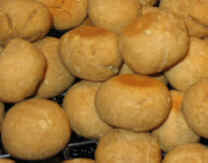 2 cups flour
1 cup oats
1-1/4 cups hot water
2/3 cup peanut butterMix ingredients.  Shape into balls and place on cookie sheet.  Bake at 350 for 20 minutes.  Should keep in the refrigerator for up to 3 weeks.Courtesy of Mary Charles Brown, Vocational Coordinator at Morehead Youth Development Center
HOT DOG "COINS"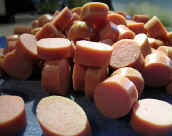 1 lb hot dogs (preferably low sodium, turkey dogs or whatever type your dog likes)
Cut all the hot dogs into 1/4 to 1/8-inch slices ("coins").  Spread paper towels on a micro-safe plate, then lay on the  slices, so that they don't overlap. Microwave on medium for 3 minutes.  Do this once or twice or more, depending on the wattage of your microwave, until the slices are small and quite dry.
Pat dry with more paper towels, allow to cool and place in airtight Ziplock containers and freeze.  Remove as many as needed for training sessions.  Keep the remainder refrigerated or frozen.
LIVER COOKIES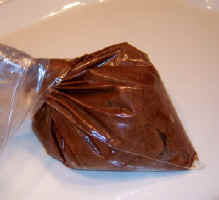 1 lb Beef Liver
1-1/2 cups Corn Meal
1/2 cup Wheat Germ
2 Eggs
1 tsp minced Garlic (1 small clove)Preheat oven to 350 degrees. Cut liver into 1″ pieces. Put in food processor and liquify. Add eggs, corn meal, wheat germ & garlic. Add more cornmeal if needed to make a soft dough. Let stand for 5 to 10 minutes, then drop by spoonfuls onto greased cookie sheets.  Press down with glass dipped into cornmeal, if desired.  Bake for 25-30 minutes till dry and set.  Bone-appetite!!Alternatively, put dough into a large Ziplock freezer bag, cut a good-sized corner off the bottom of the bag and use it as a piping bag to squeeze out little dollops of dough (about the size of a Hershey's chocolate kiss) onto your cookie sheet.  I find these little "kisses" are a greyt size for Greyhound treats and less messy than larger "cookies".  Bake these mini-cookies for only 8 to 10 minutes.Put most of the cookies in a heavy Ziplock bag and store them in the freezer.  The rest should be kept in the refrigerator and consumed within 3 days or so..

Two words of caution:

(1) If you don't like the smell of liver, you might not want to try whipping up a batch of these. The "dough" has a very strong aroma. Baked, they don't smell quite so strong.

(2) Don't feed your pet more than a couple of these a day until you are sure how his/her system will react to them.

We understand cats like these too!
Dried Beef Liver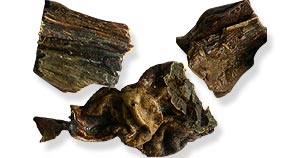 1 pound sliced beef or calves liver
Garlic powder (1 to 3 tbsp.)
1 large pot of boiling water
Rinse the beef liver well in cool water. Place the liver in a large pot of boiling water. Add garlic powder (1-3 Tbsp.) to water.  Allow enough room in the pot to prevent boiling over, and allow to boil for at least 1/2 to 3/4 hr or until cooked well.  Let cool, cut into 1/2-inch square cubes.
Spread on a foil-lined cookie sheet. Bake in a 250 degree oven for at least 2 hours (longer is OK) or until dry to the touch. Liver will be shrunk to about 1/4 inch cubes when done.
This liver is very dry when done, and can be stored in the freezer in a plastic bag or airtight container. The dried liver will last all day in your pocket, and won't stain your clothing, it is also much cheaper than freeze-dried liver. You can keep it in small film canisters in your pocket so your dog won't smell it.
Turkey Treats
1 lb. ground turkey 1 egg (optional)
1 cup oatmeal (can substitute rolled barley)
Garlic powder or fresh or minced bottled garlic (I use 1/4 to 1/2 tsp.)
1 cup Parmesan cheese
Mix ingredients. Press into a greased cookie sheet with sides and bake at 350 for 20 minutes OR press into a greased loaf pan and bake at 350 for 30 minutes. It will be the consistency of meat loaf. Let cool and cut into squares or slices. Keep refrigerated; may be frozen