Welcome to GPA-Louisville!
Are you thinking about adopting a dog? We'd love to talk to you about making a retired racing Greyhound a part of your family.
Greyhounds are clean, quiet and docile. Most are fine living with other canine breeds and many get along well with cats. Retired racers make wonderful household pets and companions but they are strictly inside pets. They make excellent walking companions and most are great with well behaved children.
Available Dogs
Adoptable Greyhounds
Dog Name
Availability & Details
Sweet Tea- "Thera"
Sweet 4 year old girl. Doesn't like getting in a car but gets in a van just fine. She appears to be "cat safe," but depends on the cat.
Fly Dark Horse - "Horse"

***** Adopted *****
Black Male born on 8/04/2019
Retired due to a muscle tear!
Super happy boy, loves to play, adventurous and LOVES other dogs! Cat safe
Bart's Galaxy - "Spencer"
***** Adopted *****
Male, Red Fawn coat; born 03/26/2020; Jack & Spencer love to play together. Laidback and sweet most of the time but when he gets the zoomies it's balls to the wall! Very playful.
TMC Panama Jack - "Jack"
***** Adopted *****
male, brindle coat; born 10/30/2019; Jack & Spencer love to play together. Excited and sweet ALL the time, and will stay all up in your business! If he wants more attention he is not shy about demanding it. Super playful and gets along with everyone, he's never met a stranger.

TMC Watta Rush - "Rush"
male, brindle; born 01/14/2021
Super happy and sweet! Very playful but submissive with the other boys. Adventurous and nosey as can be, always trying to knock over my treat container if I don't give him one fast enough. Rush is being fostered in a home with several small and medium sized dogs and gets along with them fine. However, he is not cat safe. From the foster parent: "He is a wonderful greyhound. Has settled right in to the home routine. I have 5 dogs both large & small and he has no issues with them. He still has some puppy in him & can be mischievous as in stealing my shoes, trying a little counter surfing but responds well to my NO voice. He sleeps in his kennel at night & sleeps well. He's one terrific guy!"
Object in Motion - "OB"
male, black color; born 01/06/2020; ran 67 races, won 8 and placed 5 times. Very happy & playful. He does not get along with small dogs.
Loyal Yuki - "Yuki"
***** Adopted *****
red female born 04/24/2020
Playful and rambunctious! Super impatient and vocal when she wants something. Loves toys, especially loud squeaky ones, tennis balls and lots of treats. I call her the doggie garbage disposal because she will gobble down any food you put in front of her and it's gone in seconds. She loves to give "kisses." Initially hesitant around small dogs but accepted them and now even tries to play with them. She's a bit of a counter surfer, but responds well to the "no" voice. She always has to be where the people are and loves to get constant pets. She has a little bit of sleep aggression, but if you wake her gently she responds well. She also has the softest coat! Seriously, it feels like down on a baby duckling, lol!
GLS Bobby McGee - "Bobby"
***** Adopted *****
Dk Brindle male born 3/29/21
0 races
Truly a gentle giant, and such a sweetheart. He's very laidback and sweet. Just an all-around angel boy. Loves to play with toys.


GLS Thelma Lou - "Thelma)"
***** Adopted *****
born 1/13/21 Dk Brindle female
6 races won 0
High energy and very playful! Loves treats and getting attention.
Rancho Annabella - "Anna Bella"
***** Adopted *****
born 5/5/21 Black female
0 races
Very submissive and a bit shy at first, it took her some time to warm up and let her personality start to shine. Sweet baby.

---
Help Support our Group
If you would like to help, please consider a tax deductible donation to our PayPal account. You can also help us by registering GPA-Louisville as your designated charity for your Kroger Plus card. Instructions are here. Thank you!
If the Paypal link above has broken, as it does from time to time, you can still make a donation to us via Paypal. All you need to do is use our email address, [email protected] as the recipient. Thank you very much!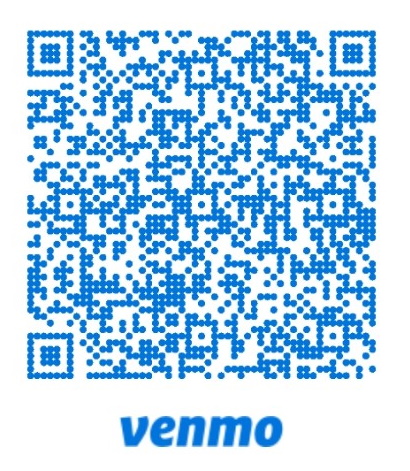 Just click on the link above or scan the QR code & you'll be taken to our venmo page to make a donation.
Get involved! It's fun and rewarding!
Get in touch with us today or visit one of our Meet & Greet events to learn more about Greyhounds and our terrific group of adopters.