Kentucky Department of Juvenile Justice's Greyhound Foster Program at Morehead Youth Development Center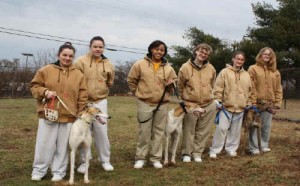 Through a unique partnership with the Kentucky Department of Juvenile Justice (DJJ), Greyhound Pets of America/Louisville has entered into a special partnership to promote responsibility and provide opportunities for career development of at-risk youth within Morehead Youth Development Center (MYDC).  This program provides transitional care and basic obedience training for newly retired racing Greyhounds, en route to their new "Forever Homes".
Read "Girls at juvenile detention center prepare rescued greyhounds for the real world", an extensive story by Katya Cengel in the Louisville Courier-Journal on July 13, 2009 about the MYDC Greyhound Foster Program
Primary and secondary teenage handlers are assigned to each class of three to four dogs during a 12-week curriculum as the dogs make the transition from professional careers as racing athletes to living in a family home as well as giving them basic training (down, sit, lay down, stay, etc.).
The first four dogs in the Morehead foster program graduated in December 2007. The most recent class graduated this past month in May 2015.
Read aboutthe adventures of Rascal, one of the dogs in the Spring 2008 class, through a series of stories and blog entries in the Louisville Courier-Journal.  See http://www.courier-journal.com/apps/pbcs.dll/article?AID=/20080409/FEATURES/80409025/1010 for the whole story.
Since its inception in September 2007, the Greyhound Foster Program at MYDC has been broadly recognized for its positive impact on the teenage population of the Center as well as on the individual handlers directly involved with the Greyhounds.  The program received an OASIS award in November 2008 from the Kentucky School Public Relations Association for "Outstanding Achievement in School Information Services").  The program received the Kentucky Veterinary Medical Association's 2008 Hall of Fame award, which will be presented in October 2008 and the KVMA Foundation made a second grant to Morehead State University to finance the dogs' medical and veterinary expenses while in the MYDC foster program.  The Wal-Mart Foundation has also renewed its support of the program with a second grant for supplies and food.
The girls at MYDC volunteer for this program, which means substantial additional responsibilities beyond their usual duties.  Their daily interaction with the dogs is primarily supervised by Ms. Mary Charles Brown, their Vocational Coordinator.
---
The First MYDC Greyhound Class (Fall 2008)
On Friday, September 14, 2007, GPA/Louisville arranged for the delivery of four newly retired racing Greyhounds to the Morehead Youth Development Center, an Eastern Kentucky facility for teenage girls (ages 14-17).  The dogs were donated through Mr. Patrick McMillon of McMillon Kennel of Alum Creek, West Virginia (near Tri-State Greyhound Track close to Charlestown, WV), and he delivered the dogs already spayed or neutered.
Within minutes, the girls were walking their dogs on leash and beginning to establish loving relationships with the dogs.  Within the hour, the girls bathed each of the dogs and began their 12-week bonding and training experience with the dogs.  The dogs will be with their primary or secondary handlers nearly around the clock.  They will sleep in the same quarters as their handlers and will attend classes in the campus school.
Upon "graduation", the dogs are sent off to their new "Forever Homes".  Their adoptions are processed through GPA/Louisville's usual adoption process, which encompasses a 4-page written application, a home visit by GPA/Louisville representatives and approval of that application.
---
The Greyhound Foster Program Continues to Prepare Girls and Greyhounds for the Future
After three months of intensive bonding, the loss of their dogs is softened for the girls at MYDC by the arrival of a new batch of dogs a few days later and beginning of the process with a new class of dogs fresh off the track.
The primary purpose of this program is to provide vocational skills to youth at DJJ facilities.  The young people involved are learning animal training and handling skills which will enhance their educational/vocational opportunities and can translate into future careers in veterinary medicine, animal training, pet hospitality and other animal related opportunities.
Secondary beneficiaries of this program are the retired racing Greyhounds who are being transitioned from track to home.  After 12 weeks at MYDC, the dogs are adopted into their Forever Homes and their new owners will have the benefit of dogs who have mastered stairs, learned home life skills and been taught basic obedience.
The cost of this program is the sole responsibility of GPA/Louisville and is possible only through grants and donations.  Neither the Commonwealth of Kentucky nor the Kentucky Department of Juvenile Justice are covering any of the cost of spaying/neutering, vetting, housing or feeding these dogs.
GPA/Louisville provides 48″ crates for kenneling the dogs in their handlers' dorm rooms as well as collars, leashes, muzzles, etc.  Grants, gifts and individual donations provide all their essentials, such as dog food, microchipping, blankets and bed, heartworm/flea/tick preventatives, immunizations, dental care, instructional materials for the handlers, grooming mitts, Adams dog shampoo, etc.  However, these needs are on-going.
If you would like to contribute to the Greyhound Foster Program,
send your tax-deductible donation to:
GPA/Louisville
P.O. Box 72237
Louisville, Kentucky  40272
with a notation to earmark the funds for the "DJJ Program".
---
This is a win-win-win situation for everyone involved!
GPA/Louisville realizes Adult Prison Programs for Greyhounds are working very successfully in other states, but such a project has never before been attempted in a Kentucky Department of Juvenile Justice Youth Development Center.
Naming only a few of the individuals whose willingness to participate in this program has been essential to making it succeed is not intended to overlook the many other people who agree to take a chance on this new program.  GPA/Louisville wants to express its sincere and extreme appreciation to the Kentucky Department of Juvenile Justice as a whole, but there are a number of individuals who have played very prominent roles in this endeavor.
This program was the brainchild of Ms. Bridget Skaggs Brown, the former Commissioner of the Kentucky Department of Juvenile Justice.
Ms. Mary Salsman-Buckley, Manager of the Quality Assurance Branch for the Kentucky Department of Juvenile Justice, and Ms. Sylvia L. Kuster, Career and Post-Secondary Consultant for the DJJ, played essential roles in coordinating this innovative program.
In addition, we want to thank Mr. Kris Mann, the Superintendent of MYDC for his confidence in the girls, the dogs and everyone else involved because, without his support, this project would have been impossible.
Ms. Nancy Hansen, "The Dog Wizard" from Lexington, KY is a Therapy Dog Evaluator, an AKC Canine Good Citizen Evaluator and member of the Association of Pet Dog Trainers and the National Association of Professional Pet Sitters.  She came to MYDC once a week for the first class to instruct the girls on teaching the dogs basic obedience — come, stay, sit, down, etc.
The Department of Agricultural & Human Sciences at Morehead State University, through its Veterinary Science and Technology Programs, agreed to provide additional veterinary services such as teeth cleaning, insertion of microchips, veterinary support, canine first aid instruction, etc.  Working side-by-side with professionals and students at MSU has been an exciting opportunity for the girls at MYDC, exposing them to career paths they might otherwise never have considered.
The Kentucky Veterinary Medical Association Foundation has provided the program with two very generous grants to assist with medical expenses incurred by the dogs while in this program.  GPA/Louisville wishes to express its appreciation to the Foundation and to Philip Prater, DVM and Kimberly Peterson, DVM from the MSU Vet Tech program for pursuing and obtaining this grant.
The MYDC is very close to Wal-Mart Store #1139 in Morehead, Kentucky.  Through the efforts of the Kentucky Department of Juvenile Justice, a grant was obtained from the Wal-Mart Foundation which will be used to purchase Purina One kibble and dog care essentials at the local Wal-Mart store.  This has been enormously important to making this program possible.
Stony Point Christian Church in Charlestown, Indiana (which GPA/Louisville President Mike Beavers and his wife attend) learned about this program and wanted to help.  The church recognized that this was an important outreach directly benefiting at-risk teenagers who might quite literally turn their lives around as a result of this program.  Stony Point made a surprisingly generous donation to GPA to support this project, for which we are eternally grateful.
If you are interested in adopting a retired racing Greyhound, please contact us at [email protected].  You can look at the Available Dogs page at www.GPALouisville.org to learn more about the MYDC dogs.  If you are interested in adopting, just fill out our standard adoption application to begin the process.
The girls participating in this pilot program given their express and repeated consent (both written and oral) to the use of their photographs on this webpage; however, because release forms were not obtained for two of the girls, their faces had to be obscured.  We regret this was necessary as we are very proud of each of these young ladies.
| | | |
| --- | --- | --- |
| | | |
| | | |
| | | |
| | | |
| | | |
| | | |
| 2007-09-15-15-Brat and Arathorn | | 2007-09-15-17-Vocational Classroom |
| | | 2007-09-15-20-Arathorn and one of his handlers |
| 2007-09-15-21-Breann and one of her handlers | 2007-09-15-23-Arathorn and Sylvia Kuster | 2007-09-15-24-Sylvia Kuster and her husband Skip with Arathorn |
| 2007-09-15-25-Brat and two of the handlers | 2007-09-15-27-Breann in the pen | |
| 2007-09-15-30-Time for rest | | |
| | | |
| | | 2007-09-16-32-The dogs with four of their handlers |
| | | |