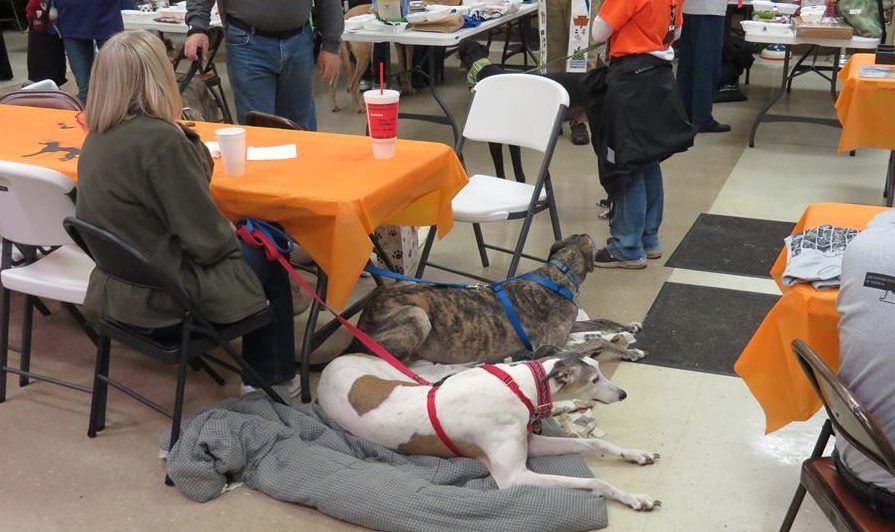 Our annual reunion for 2019 is on Saturday October 26 at the Bullitt County Fairgrounds. The event goes from noon to 5pm.
It's easy to find. Just drive like you're going to Bernheim or Jim Beam, in Clermont, KY, and the entrance is right off I-65. Here's a map to the place to help you out.
This year promises to be a fun-filled event with tons of activities to make the time fly! Here are some highlights:
Speakers
Robin Shelden, DVM
Presentation from Fast Friends (tentative)
More games with prizes, fewer raffles
Bobbing for Biscuits for Dogs Only
Egg Hunt for Dogs
Vendor Baskets

Spend $5.00 at a Vendor Booth and Get an Egg With a Chance at a Prize

Fun Run Setup Outside (Weather Permitting) – Muzzle Required
Turnout Area for Dogs to Roam a Little – Muzzle Required
Nail Trimmer Will Be There
See Your Dog Race (videos – wi-fi dependent)
Tried and true activities staying this year:

$5.00 entrance fee

Pitch in luncheon – fried chicken, hot dogs, and enchiladas provided – bring a side dish or dessert
Please use our sign up form to indicate what you'll bring and see what others are bringing.

Coffee, tea, lemonade and water will be provided. If you want something else you can bring your own.

Chili cook off – bring a Crock pot of your best chili recipe. Voting is $1.00 per vote and the winner gets the infamous chili cook off trophy for 1 year.

Costume contest (dog and/or human). Prize to best costume .
Raffles –we will have $1.00 and $5.00 raffle tables, but fewer than previous years.

Calendars that were pre-ordered will/can be picked up here. If you don't attend the reunion we will mail them to you (for a fee). Order deadline by August 31st. Contact Tirri Hickerson at 502-876-4154.
Tee shirts will also be picked up at reunion or mailed (also for a fee). Ordering information to be posted on our website and Facebook page soon.
Subject to change as plans for the reunion are developed. watch for links to our annual reunion on either facebook or on our website – gpalouisville.org.
Be a Sponsor!
Sponsor the Reunion event and get your name on the 2019 Reunion T-shirt, our Facebook page, and our Website! Levels are $15, $25, and $50. Just call, text or email Tirri HIckerson: 502-876-4154 [email protected] if you're interested!
If you want to donate a product or service, just let Tirri know and we'll acknowledge you here on the website and on our Facebook page.
We appreciate all of our generous friends!
Thank You to Our Sponsors and Donors
Donor
Donation

Louisville Mega Cavern

Tickets for:
Mega Zips || Mega Quest
Mega eBikes || Mega Tram

K-I Lumber

https://www.ki-lumber.com/

Bearno's Pizza

https://bearnos.com/

Clarke Equipment