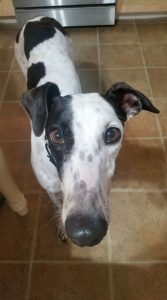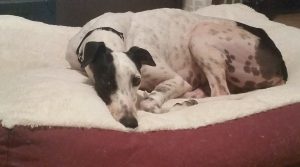 Cloud
Nickname: Cloud
Racing Name: Kiowa War Cloud
Color: White w/ Black
Age: Over 2.5 years old
Birthday: Aug 8, 2014
Weight: 54 lbs – She is petite for a greyhound!
Racing Career/Pedigree: Here
Compatibility:
Other Dogs? – Yes.
Small Dogs? – Yes, seems to be good with small animals.
Small Children? – Above 6 years old, ok.
Cats? – Yes, seems to be ok with cats.
Foster Home Bio:
Cloud is such a doll! This little girl is very small for a greyhound, even a female, and is a little love bug. She is full of personality and is very sweet. She also rides great in the car – she took a nap in the hammock when we picked her up.  Come meet her!