Welcome to GPA-Louisville!
Are you thinking about adopting a dog?  We'd love to talk to you about making a retired racing Greyhound a part of your family.
Greyhounds are clean, quiet and docile.  Most are fine living with other canine breeds and many get along well with cats.  Retired racers make wonderful household pets and companions but they are strictly inside pets.  They make excellent walking companions and most are great with well behaved children.
---
If you would like to help, please consider a tax deductible donation to our PayPal account.  You can also help us by starting your Amazon shopping experience from the link below, or registering GPA-Louisville as your designated charity for your Kroger Plus card. Thank you!
10/07/2020 Updates:
Hi Everyone –
We have had a board meeting tonight, the first one since December 2019. Topics were:
1.National Conference – We heard that the average adoption cost is about the same across all groups.
2. Bingo – If you don't know, we are currently unable to offer bingo. We are looking to get our license back starting next year.
3. Online Fundraiser – We're looking into doing an online fundraiser.
4. Irish Greyhounds – Discussed possibilities of getting irish greyhounds some day, the possible cost, etc.
5. Website – Discussed updates to the site, switching to a different hosting server next year for a better site.
6. New Board Members – We are down a couple of board members; discussed what new responsibilities/what things we would love for a new board member to help with.
If you have any questions what is going on let us know. Additionally, if you have any suggestions on better communication or ideas to help the greyhounds find more homes, we are all ears!
Tentative next board meeting – November 11th, 6:30 pm – 8:30 pm via Facebook Messenger. All are welcome; just let Kristin Scott-Gaylord know on our Facebook group.
We also have calendar orders starting October 2020. Let me know if you are wanting a calendar and send check to GPA Louisville 1506 Grandin Woods Ct Louisville KY 40299. Message Donna Owens on Facebook if you want one. Thanks!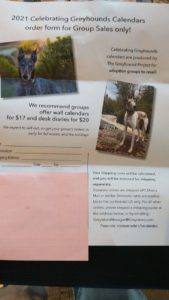 Amazon Smile Rewards
Here's another easy way to support us! Just clink on the link below and Amazon will give us a referral fee when you shop on Amazon:
Start your Amazon shopping experience HERE!
We had a goal of helping 52 greyhounds find homes in 2018 (one per week on average). Your donations & support helped us get very close! We were a few short, but only due to a lack of dogs at the track during the year.
Get in touch with us today or visit one of our Meet & Greet events to learn more about Greyhounds and our terrific group of adopters.
---
Other Ways to Support Greyhound Rescue 
Get involved! It's fun and rewarding!

to our Newsletter and keep up with what's going on at GPA-Louisville! 
Attend one of our events