Welcome to GPA-Louisville!
Are you thinking about adopting a dog?  We'd love to talk to you about making a retired racing Greyhound a part of your family.
Greyhounds are clean, quiet and docile.  Most are fine living with other canine breeds and many get along well with cats.  Retired racers make wonderful household pets and companions but they are strictly inside pets.  They make excellent walking companions and most are "greyt" with well behaved children.
Want to help support us? Just clink on the link below and Amazon will give us a referral fee for you shopping on Amazon:
Start your Amazon shopping experience here!
ANNUAL REUNION
OCTOBER 28, 2017
12 pm to 5 pm
BULLITT COUNTY FAIRGROUNDS
     964 Clermont Rd,
    Shepherdsville, KY
Please consider vaccinating your hounds before coming to the reunion – we have reports of +60 cases of dog flu at Shively alone!
You can also order T-Shirts – check out this flyer!
MANY THANKS TO ALL OF SASSY'S SUPPORTERS – SASSY IS NOW HEART-WORM FREE AND IN HER FOREVER HOME!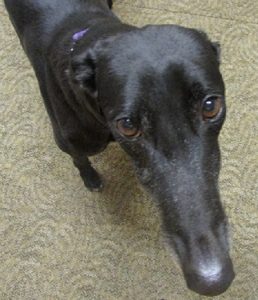 The group Aid for Greys made a very large donation – you can support them in return by going to their website where they sell dog collars & coats: http://aid4greys.com/
Get in touch with us today or visit one of our Meet & Greet events to learn more about Greyhounds and our terrific group of adopters.
Special thanks to KEELIE BLOOM PHOTOGRAPHY in Louisville, KY for donating our featured home-page picture! Be sure to check out her website here: www.keeliebloomphotography.com


GPA Louisville Bingo (# 0000487)